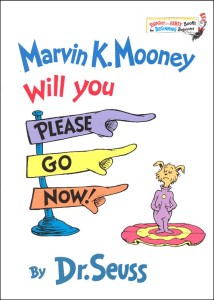 Politely of course,  à la Dr. Seuss!
It is beyond mid-April, yet this Winter unrelentingly hangs around, and has long outworn its welcome!  A continuing, tenacious wintry scene, brings one of my favorite Dr. Seuss book title to mind:  Marvin K. Mooney, Will You PLEASE GO NOW!   "I don't care how you go, JUST GO! NOW!"
Poetic license declared and granted by inserting the chosen name of someone, or something that has imposed a presence way beyond comfort.   Keep repeating, as in this case, "Snowy F. Winter, I don't care how you go, PLEASE JUST GO!! NOW!!!"
Could it be that easy?!! At least in our mind as we put out the welcome mat for the eventual, hopeful arrival of our next guest, Ms. Spring.