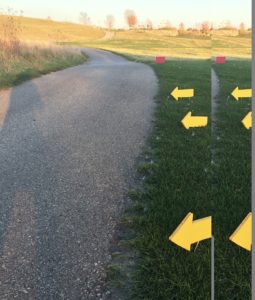 As we close out 2nd quarter marking the midway point of the year, make time for some high leverage activity by reviewing the vision & mission of your priority goals.   It's an opportunity to engage & strengthen commitment to your priority goal pursuits.  And – to adjust  key objectives, initiatives and projects assure continued alignment driving the overarching vision and desired year-end results.
If you haven't created clear benchmarks with a 'scoreboard' for key projects & initiatives, how will you assess & chart progress indicators for priority goal achievement? Metrics are the benchmarks of success to keep you and your team engaged to sustain motivation for taking current success to the next level . These metrics can be indicators for revenue growth, satisfaction level or any other designated priority factors.   They can also serve as tools to plan & prepare or circumvent potential issues, challenges & obstacles that may arise. When your trajectory is off, take pause to create adjustments.  When you're on course, they reinforce what is working well to remain aligned with intended targets.
Reaching benchmarks creates traction to fuel an upward spiral of positive performance and momentum to goals for anchoring commitment to keep striving forward.
Four steps to keep you steadfast for reaching higher levels of success:
Commit to no more than top three goals, in order of priority for each quarter. These are the goals that really matter & would make all the difference for you and your organization.
Plan and schedule the metrics and benchmarks for key initiatives and objectives leading to achievement of each designated goal.
Invest and dedicate resource of time, energy with unwavering focus as you work on each step of each initiative to completion.
Make time to evaluate, assess, and adjust for effectiveness.