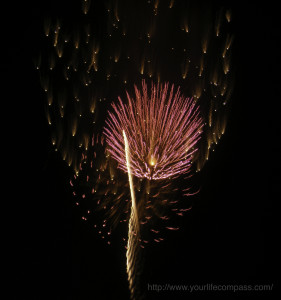 Freedom is an equal opportunity privilege afforded to all, to pursue dreams – of happiness, lifestyle, and success with options, and choices. It is truly is a sad day when we realize that the only person, thing or circumstance holding us back is our own limited self-concept based on the past instead of owning the personal power of our accomplishment of who we have evolved into!
'Through loyalty to the past, our mind refuses to realize that tomorrow's joy is possible – only if today makes way for it; that each wave owes the beauty of its line only to the withdrawal of the receding one." André Gide
We all reach a point in time and life where we've earned our Stars and Stripes! Time to celebrate not only the national holiday with gratitude to all who have served and those currently serving our country, but, to acknowledge our own efforts, experiences and contributions to this one life we have.  Time to write, sign, and set off some fireworks declaring our personal Declaration of Independence – from whatever imposes limitation on who we are, to pursue who we want to be, to become everything we are capable of  being! Happy Declaration of Actualizing Our Potential! Happy Fourth of July!