"Everyone needs an oasis of solitude & silence…a daily period of being present to our deepest self…" Thomas Keating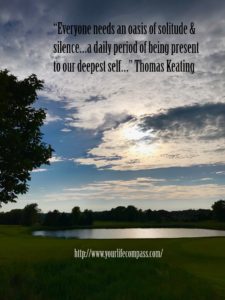 No matter the roles you play on the world stage, you need regular connection to an internal sanctuary of well being with touchstones to carry that peace found within throughout the day.
Taking time to deepen your experience with your higher self generates signpost reminders that you are a multidimensional person, with many levels of hopes, aspirations, & needs. This oasis is a much needed plug-in destination for grounding to our world within, so we can better function in the outer world. This time is much like tending to our beloved wireless devices that require connection to recharge & function as intended.
For me, early morning is my sanctuary & oasis. Coffee cup in hand, I step outside to greet the day, immersing in the awe of a sunrise, and to appreciate whatever is out there. The peace & insights arising during this special time generates abundant positive energy helping me be more at my best, especially as stress & challenges inevitably surface in the course of the day.
Indeed! The more hectic & stressful your life becomes, the more important it is to create a daily routine to immerse yourself in an oasis of solace and solitude. Think of it as an insurance policy – more a necessity than a luxury, protecting your well being from the day-to-day barrage of challenges & stress.